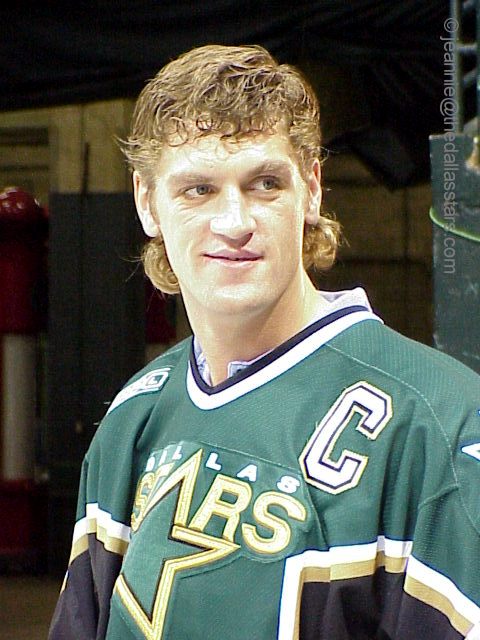 HATCHER RETURNS HOME TO DETROIT
By Linley Wartenberg
It's been over 15 years since Derian Hatcher suited up in a Detroit sweater.

Back then, it wasn't a Detroit Red Wings sweater. He last represented his hometown area in 1988-89 in the Michigan National League. Of course, that was when he was a midget in amateur hockey.

My, how things have changed.

Hatcher, now 31, returned to the metro area with a flourish Thursday, signing a contract that should keep him playing for the Red Wings for five seasons.

My wife always thought I look good in red, he said after pulling on a No. 2 Red Wings jersey. I'm looking forward to it, being in Detroit. It's a new chapter in my hockey career.

Team owner Mike Ilitch sang Hatchers praises, ranking him up with the best defensemen ever to wear the Winged Wheel.

In our career with all our tradition and all our history, we have never had a defenseman with all the qualities of Derian, Ilitch said. We want a solid team. I told Derian we're going to win a couple Cups with him.

Hes a gritty player who isnt afraid to stand in front of the net to take a pounding. The hard-nosed defenseman will stand up to anyone, anywhere.

Who's going to mess with one of our boys? Ilitch asked

Hatcher parted ways with the only team he's ever known when the Dallas Stars refused to commit to him for five more seasons.

"The main sticking point is the term of the contract," Stars general manager Doug Armstrong said. "We never got past the five years."

Dallas refused to give their 9-year captain a contract longer than three years.

Contract length didn't seem to be a problem for Detroit, who reportedly inked the Norris Trophy finalist to a contract worth $6 million a season. Theres no no-trade clause, but General Manager Kenny Holland didnt foresee that as a problem.

Our plan is that he retire a Red Wing, Holland said.

He'll join the Norris Trophy winner Nick Lidstrom and former World Cup and Olympic teammate Chris Chelios on the Red Wings blue line. With Hatcher and Jiri Fischer, General Manager Kenny Holland has two talented 6-5 players who can add a nasty element to the mix.

With the addition of Hatcher, Holland said the Red Wings defense is the first in the league. Although Hatcher agrees with the sentiment, he downplayed his role.

Obviously Detroit always had a great team, he said. I'm just an addition to that defense.

Holland said signing Hatcher was a priority this summer.

Its been 40-50 years since the Red Wings have had a player like Derian Hatcher, Holland said. He keeps the opposition honest.

The contracts of defensemen Lidstrom, Chelios and Mathieu Schneider all expire at the end of the upcoming season, Hatcher is a definite part of the Red Wings long-term future.

We wanted to have a real anchor on our defense.We have a guy we can build around for the next five years and be a cornerstone of our hockey club for the future, Holland said.

Last year, Hatcher had 30 points (8-22-30) and was a finalist for the Norris Trophy. He also set a career high in shots and plus/minus with a plus-37 rating.

He won a Stanley Cup in 1999, when then-teammate Brett Hull scored the Cup-clinching goal on possible current teammate Dominik Hasek.

Hasek is still an unknown for next season. He's expressed a desire to return to the National Hockey League and the Red Wings have exercised their option, but Hasek hasn't said whether or not he will return. Holland expects a decision by the middle of next week.

If he does, the Red Wings will have a $16 million glut in goal, since both Hasek and Curtis Joseph are under contract for $8 million.

As far as Hatcher is concerned, it doesnt matter whos in net.

I never asked who the goalie was that was going to be here, he said.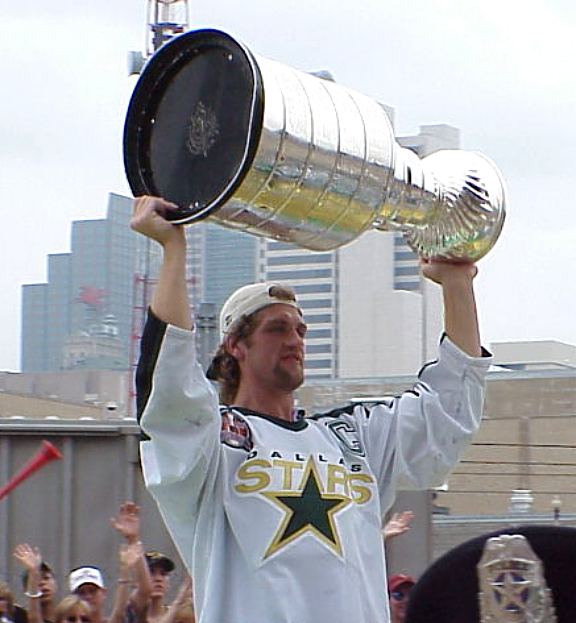 A hulking, physical defenseman, Hatcher was drafted eighth overall by the Minnesota North Stars at the 1990 NHL Entry Draft. He made his League debut Oct. 10, 1991. Hatcher went on to play in 43 games that season, collecting eight goals -- including his first on Oct. 12 -- and four assists. The hard-hitting defenseman routinely logs heavy minutes and plays 70-plus games for the franchise, which he stayed with when it moved to Dallas in 1993. Hatcher helped the Stars capture the 1999 Stanley Cup, notching a goal and three assists in 23 games. In 2001-02, he registered four goals, 12 assists and a plus-12 rating in 80 games.