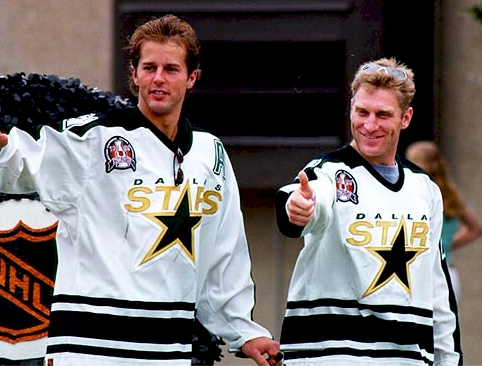 Dallas Stars
Mike Modano 9

Center
Height 6-3
Weight 205
Shoots Left
Born June 6, 1970
Livonia, MI, USA
A gifted two-way forward, Modano can do it all. He combines speed, good instincts, excellent puck control, passing skills and a great shot. He is also a strong checker and plays an instrumental role on both the power play and penalty kill. Selected by the Minnesota North Stars (first overall) in 1988. Won the Stanley Cup with the Dallas Stars in 1999. Holds Stars franchise all-time record for goals. Played in four NHL All-Star games. Tallied seven hat tricks in his first 12 seasons. Scored career-high 50 goals in 1993-94.
Tampa Bay Lightning

Martin St. louis 26


Right Wing

Height 5-9
Weight 180
Shoots Left
Born June 17, 1975
Laval, QC, CAN

Signed by Calgary as a free agent Feb. 19, 1998, St. Louis made his NHL debut on Oct. 9, 1998 against San Jose. Eleven days later, against Dallas, he lit the lamp for the first time. The winger signed with Tampa Bay as a free agent, July 31, 2000 and scored 18 goals and 22 assists, in his first year with the Lightning. The following season, he nearly matched his totals (16 goals, 19 assists) in 25 fewer games. Before signing with Calgary, St. Louis led the University of Vermont in scoring for four consecutive seasons, breaking the school record for goals and points. St. Louis was a three-time finalist for the Hobey Baker Award and finished his collegiate career four points shy of the Eastern College Athletic Conference record for most career points.

LA Kings

Height 5-9
Weight 185
Shoots Left
Born April 9, 1980
North york, ON, CAN

They may not be very broad, but a close inspection of Avery's shoulders would undoubtedly reveal a chip. The gritty winger, though undersized, carried that chip into the NHL, where he found his place battling in the corners. He played 36 games with the Detroit Red Wings in his rookie season. Avery caught on with Detroit when it signed him as an undrafted free agent in 1999. He notched 84 points in 55 games with the Kingston Canadiens of the OHL that season.